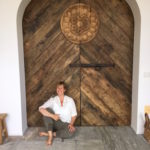 Yin Yoga – The Wonder of a Pause.
42 lärarledda timmar
Utbildningen går över 3 helger – lördag till söndag.
Yin Yogan har verkligen blomstrat i yoga världen. Med sin stilla, långsamma och landande tillnärmning. Där ligger en förståelse och en längtan till att sakta ner tempot.
Utbildningen passar både för dig som önskar fördjupa dig i yin yoga som en egen praksis och till dig som yogalärare till att du kan integrera yin yoga i din undervisning.