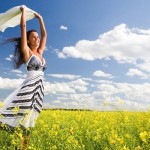 The Four Intentions:
I want a joyful, energetic body.
I want a loving, compassionate heart.
I want a restful, alert mind.
I want lightness of being.
The custom of starting the New Year with a resolution has good intentions behind it. With a little self-reflection, we all see areas of our life we'd like to improve and bad habits we'd like to break. But for most people, perhaps as many as 90 percent, good intentions don't get very far. Les mer!